CQC
Colorado QRP Club, Inc.
Life's too short for $800 finals!

Silent Key
We are sad to announce that Marshall Emm, N1FN - longtime QRP advocate, owner of Morse Express, Oak Hills Research and Ameco - is a Silent Key. Marshall passed away peacefully Monday morning, February 17, 2020, at the Aurora, Colorado Medical Center with his daughters and wife surrounding him.

Memorial services for Marshall were held at Ft. Logan National Cemetery on February 28th, with many of us gathering at his home, that evening, for a reception with his wife, daughters, and other friends and family members. Marshall will be sorely missed by so many of us - Our thoughts and prayers remain with Marshall's family.



- Roger J. Wendell, WBØJNR
CQC Treasurer and Webmaster



Messages, thoughts, and stories can be sent to ColoradoQRPClub@gmail.com

Adelaide Hills Amateur Radio Society Inc (AHARS)

022020
AHARS:


I regret to inform you that AHARS Lifetime Member Marshall Emm, VK5FN / N1FN, is a Silent Key. He passed away peacefully with his family by his side Monday, Feb. 17, 2020, in the Aurora CO Medical Center of cancer.

Marshall and I have known each other since 1995, when I was first licensed. With his influence, I fell into bad company -- the QRP Crowd. We joined the Colorado QRP Club at the same time; his number was 154, mine 155. Since then we have both served as officers and exec board members for the club and developed a long and enjoyable friendship over amateur radio and, what else, American politics!

Marshall was the owner and operator of Milestone Technologies, Morse Express, and Oak Hills Research at the time of his passing. The past few years, I worked with him, running his "bench", building and troubleshooting his products for customers. He was a stubborn, steady, and highly educational supporter of CW, Morse Code, and low power amateur communications. For many years, he hosted the club's bi-monthly meetings at his place of business. He served as the trustee for our club's two callsigns, W0CQC and N0CQC, and he was the tireless promoter of the club-sponsored weekly HF Foxhunts on 80, 40, and 20 meters up here in the states.

He spoke often and fondly of his years as an amateur radio operator down under and was very proud of his VK callsign.

Notes, cards, etc. can be went to his XYL, Wendy Emm at 2460 South Moline Way, Aurora, CO 80014-1833 USA. Email messages can be sent to the club at Coloradoqrpclub@gmail.com. We will make sure they get to the family.

He was a friend, an Elmer, and an amateur radio entrepreneur, and he will be sorely missed. Amateur Radio has lost a great one.

73,
AHARS:
Dick Schneider, AB0CD
Secretary, Colorado QRP Club

Condolences
08-01-2020
[email]
Dick Mobley

I just learned of Marshall's passing and so sorry to hear the news.

Over the years I have purchased several items from Marshall. I always looked forward to the next release of the Christmas Key. It was an annual ritual in our household.



I would remember in mid-December the new key would be available.
I would send Marshall an email to let him know I would be telling my wife Carol so she could order my Christmas gift
Marshall thoughtfully reserved my usual serial number, having learned of my procrastination over the years.
Carol would place the call. She always enjoyed the friendly chats with Marshall and looked forward to them.
Marshall sent the Christmas Key quickly.
I would pretend to not know what might be in the small white box when it arrived.
And finally, look totally surprised to receive the new key for the collection.


Carol and I pass sincere condolences to the Emm family for your loss. Marshall had a good and great impact on the lives fortunate enough to have contact with him.

Marshall and the family will be in my thoughts and prayers.

Dick (AL7B) & Carol Mobley

Anchorage, Alaska

04-13-2020
[email]
Mark Coleman

RIP

So sorry to hear about Marshall. My thoughts and prayers are with his family. Mu he Rest In Peace..

Mark - kj4y

02-19-2020
[email]
Edward Comfort

to COLORADOQRPCLUB

Very sorry and surprised to hear of Marshall's death. He was of great help to me when I tried to resume ham radio after a layoff of 50 years. One of the first aids I discovered was Marshall's 4-part series, "Electronic Construction from A to Z" that ran in 73 magazine from Nov 97 to Feb 98. I still look back on it to review certain topics.

Ed KC0ZLR

02-18-2020
[FaceBook]
Wiley Winters: Sorry to hear about this. Been out of contact with the QRP club for a number of years and remember Marshall as always helpful and full of information.

02-18-2020
[Facebook]
Phil Polizzo: sorry to hear. I was just thinking about him as I drove past Bethany Dr. today

02-18-2020
[email]
Seabury A Lyon

to COLORADOQRPCLUB@gmail.com

I send heartfelt condolences to those many who hold the memories of Marshall near and dear.
He will be sorely missed in our ham radio community.

Seabury Lyon
AA1MY
Bethel, Maine

02-18-2020
[email]
Nearly nine years ago, I decided, at age sixty-five, to try to learn Morse code. Growing up, I had heard CW on shortwave, but that's about it. I majored in philosophy in college, not engineering! So I barely knew how to begin. I looked on the web, and for one reason or another, I ended up calling Morse Express. Marshall answered, I asked for help, and he gave me plenty. After four or five calls (no kidding!) lasting a long time, I knew enough to purchase a Nye Speed-X key and Ameco oscillator, and I started to practice off the air. I had more questions and called again, and again. With seemingly all the time in the world, he launched my Morse career. When I finally got on the air and found an Elmer (John, K4BAI), he was delighted. I knew then--as I know now after hours and hours enjoying CW, especially QRP--that Marshall Emm was an extraordinary person. In my book, kindness is the greatest of human virtues. He had it in abundance. Godspeed. We miss you.
72, Randy, KK4BNC

02-22-2020
[email]
It sad hearing about Marshall. He will truly be missed. Our sympathy and prayers go out Marshalls Family.
Sincerely Joseph Fehrenbacher N0PME

02-21-2020
[email]
N0QT

to COLORADOQRPCLUB

I am so sorry to hear of Marshall's passing. I have some very fond memories.

His patience and elmering were so helpful as I progressed through the license journey. He was quick to get out pen and paper and draw diagrams and visuals to help me understand various little things that would hang me up from time to time.

Due to his job in the military, Marshall was quick to understand my passion for cryptography. Thank you for your service, sir.

Marshall is the one who coined the call "CQ Boo" for the Zombie Shuffle. He thought it was fun, I thought it was perfect.

But my favorite memory has nothing to do with ham radio. Marshall and a few other members were fond of calling me the Martha Stewart of Ham Radio. Mostly due to all my ideas for portable operation, but also because my second passion is cooking.

So one day I go to the club meeting and Marshall hands me a beautifully wrapped gift and tells me that he made it for me, then challenged me to guess what it was.

It was a small wooden box with holes drilled in the top and wooden dowels inside the box. It was beautifully made, Marshall had quite the talent for wood craft.

Well, I made several guesses -- plastic baggie drier to towel rack -- but each wrong answer sent Marshall into fits of laughter. Finally he told me it was for drying pasta. I was dumbfounded, it was so genius. He'd discovered that I didn't have a pasta rack because there was no place to store it in my already crowded cabinets and countertops. His little invention breaks down and tucks into a drawer. Brilliant!

These are but a few of my memories of this man. I pray for peace and comfort for his loved ones.

Rest in peace, my friend.

72,
Jan, N0QT #345

For many, many years Marshall opened his home and office to our mailing parties and meetings - CQC will be forever grateful!
Additionally, Marshall was a weath of information on a wide range of technical and radio topics, always willing to share
with us. From the very first years of the club's existance I had the pleasure of working behind-the-scenes with Marshall
on all the legal and financial stuff that swrils around a nonprofit - his guidnace and assistance will be sorely missed!

- Roger J. Wendell, WBØJNR (CQC treasurer and webmaster)

Your humble webmaster found this personal entry from Marshall, himself, off of one of his business websites: (the html code was not modified other than to redirect the images from our own server)
Well, you found it....
This is the home page of Marshall Emm, N1FN.
"N1FN" is an FCC issued Amateur Radio Callsign, and it's there because my ham radio friends are more likely to recognize that than my name. I also hold an Australian license (VK5FN) and have also been known as AA0XI and VK2DXP. Oh... and KB0SCL for one week. And just to keep it interesting, I often operate as "ET" rather than Marshall.
I thought as long as I am doing all these pages and pages ( literally thousands of lines of HTML code) for Morse Express and Milestone Technologies, Oak Hills Research, and AMECO, I might as well do a "personal page."


Now put your mirror shades on, get your nerf-bat ready, and make sure your seatbelt is fastened, 'cuz here's a picture of me with Mighty Samson, the QRP Dog... who has a framed certificate attesting to his ability to COPY MORSE CODE!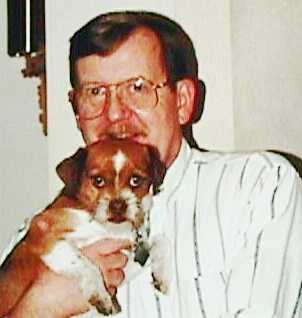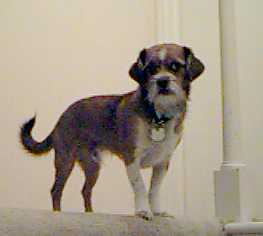 My little pal Sammy, apart from being the only other guy in the house, can copy the words "OK" (which to him means "let's go for a ride in the car") and "BED" when they are whistled by anyone. That's five letters, or about 20% of the Morse alphabet, so he would have a good chance of passing a Morse exam if we could only teach him to write. If anybody's counting, one way to pass the Morse test is to copy one minute out of the five minute test. That's 20%, q.e.d.!
And it's NOT just the whistling-- whistle anything else in Morse and he will look at you as if he is trying to understand what you are saying, but that's it. For the skeptics among you, Sammy's skill has been verified and certified by two Extra Class amateur operators of unquestioned integrity.


Return to CQC Home Page



CQC Webmaster
Roger J. Wendell, WBØJNR
About | Contact | Home | Join | Meetings & Events | Members | Merchandise | Newsletter | Site Index |
Copyright © 1994 -